Though vegetable scrubbers may be sometimes overlooked, these cleaning items happen to have a highly important job and no kitchen is complete without one. By scrubbing, rubbing, or brushing your product you are following essential guidelines to get rid of dirt and contaminants from your veggies. In order to do that, you need the best vegetable scrubber you can find.
If you are from the bunch that thinks rinsing your veggies with water is enough, you ought to know that you may be failing to eliminate things like pesticides or even harmful bacteria. This is where a vegetable scrubber comes to the rescue, especially when dealing with root vegetables.
Now that you know how important vegetable scrubbers are, is time to choose the one that suits your needs best. With many models in the market, it may seem a bit daunting picking one and knowing if you made the right choice. So if you are currently in search of a vegetable scrubber, check out below a list, with some of the best alternatives currently on the market.
Best Vegetable Scrubber FAQ's
What is a vegetable scrubber?
A multi-purposed type of kitchen utensil that can be used to clean many different types of vegetables as well as other items such as cookware.
Why would you use a vegetable scrubber?
Vegetable brushes are designed to provide a deeper clean compared to just washing vegetables
with your hand.
Do you need a veggie brush?
If you clean your vegetables by rinsing them under running water, you may be failing to eliminate things you can't see like pesticides or even bacteria. According to the FDA, rubbing or brushing firm produce under running water can help to eliminate dirt and contaminants. Keep in mind that washing is advised for all fresh vegetables.
What should you consider when choosing a vegetable scrubber?
Shape. Make sure the brush you are buying has an ergonomic design to provide a nice grip.
You should at least look for a brush that will not be uncomfortable or tiring to hold if you decide to clean too many potatoes at a time.
Material. If you need something light and easy to maintain, plastic and silicone options are something to consider. If you want an eco-friendly brush, consider buying a wooden or bamboo brush.
Stainless steel brushes, on the other hand, are a suitable choice for people to whom the design of every kitchen tool they own matters.
Bristles. The bristles shouldn't be so stiff as to scratch the product you are trying to clean but they also shouldn't be too soft. The bristles should be securely attached to the brush and not fall out easily.
Size. This is especially important for brushes with no handles, i.e. the ones that fit in the palm.
A vegetable brush that provides absolute comfort for one person may not be the most comfortable for you.
Ease of cleaning. If you have bought a brush with a wooden handle, you will need to clean it by hand. If this is something you are trying to avoid, plastic and silicone brushes are what you should be looking for.
What can I use if I don't have a vegetable brush?
If you do not have a vegetable brush handy you can use a paper towel to scrub a potato. Wet the towel with warm water and start rubbing the outside.
Best Vegetable Scrubber
Get your organic produce squeaky clean with this little earth-friendly wonder that works on everything from the firmest peppers to the most delicate peaches.
Made from earth-friendly materials; Bamboo, recycled plant fiber bristles (Tampico), and recycled plastic bristles. The combination of tough recycled bristles and more gentle plant fiber bristles are ideal for produce.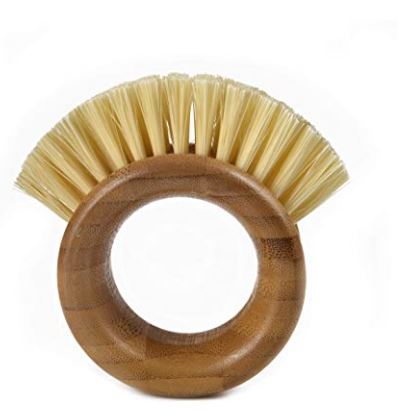 Pin
Features:
Comfy handle
Recycled plant fiber bristles
Hand wash
This scrubber has technically no handle, just a piece of wire holding the fibers together. Bristles are made of coconut fiber.
It works well, and it fits in your hand like a sponge. It can go in the dishwasher, but it does absorb a lot of water, so you just need to make sure to let it dry out before putting it away.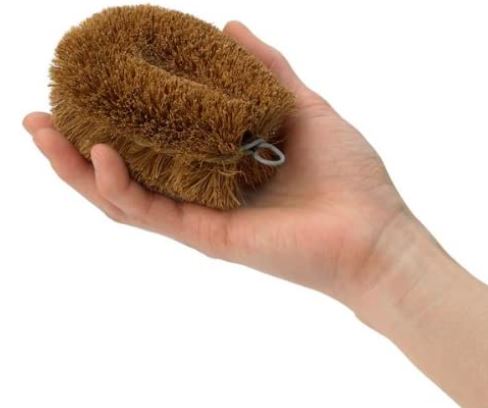 Pin
Features:
Coconut fiber bristles
Dishwasher safe
Fits in your hand
Carrots and potatoes, beets and broccoli; no matter how round, bumpy, or odd the surface, this brush's flexible body will follow the contours. The nylon bristles are strong and sturdy, dislodging dirt in deep nooks and crannies.
The Good Grips line features durable, nonslip flexible handles on every product. Ergonomically designed to fit the palm comfortably and softly, the pressure-absorbing processed rubber handle puts less tension on the hands while providing an outstanding grip.
Made from the same material as dishwasher gaskets are constructed of, the handles are slip-proof, wet or dry, as well as dishwasher-safe.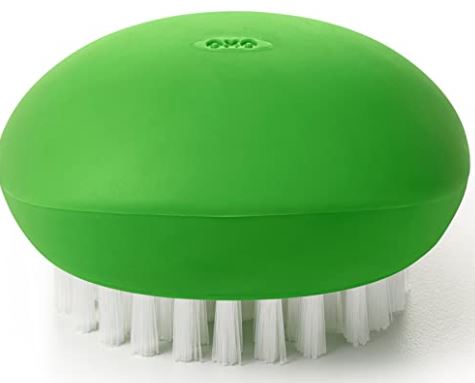 Pin
Features:
Nylon bristles clean thoroughly
Perfect for potatoes, carrots, and more
Flexible, non-slip grip
Dishwasher safe
This easy-to-store brush is the perfect solution for cleaning all types of produce. Compact and easy to use, this brush comes with 2 different bristle types. One side contains angled soft, silicone bristles for mushrooms and other delicate food items.
The flip side contains stiff nylon bristles for harder root vegetables. The ergonomic grip makes it very comfortable to use on even the toughest scrubbing.
It is also designed to stand on its end for drying and is dishwasher safe for easy, convenient cleaning.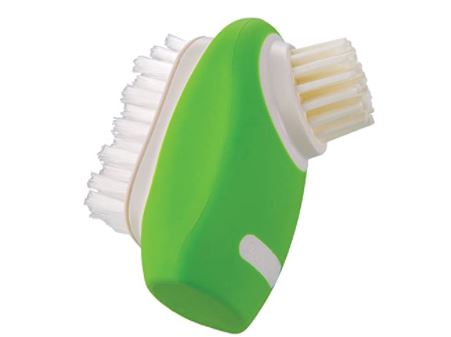 Pin
Features:
Easy-to-store brush
2 different bristle types
Ergonomic grip
Dishwasher safe
High-density firm bristles make it easy to brush off stains on a variety of surfaces. The handle ensures a firm grip and completes more vigorous scrubbing tasks.
The soft bristle can be used to brush thin-skinned food, such as cucumbers, pear. The hard bristle can be used to brush thick-skinned food, such as carrots, potatoes.
Perfect for cleaning various fruits and vegetables, including potatoes, carrots, tomatoes, cucumbers, apples, pears, and more.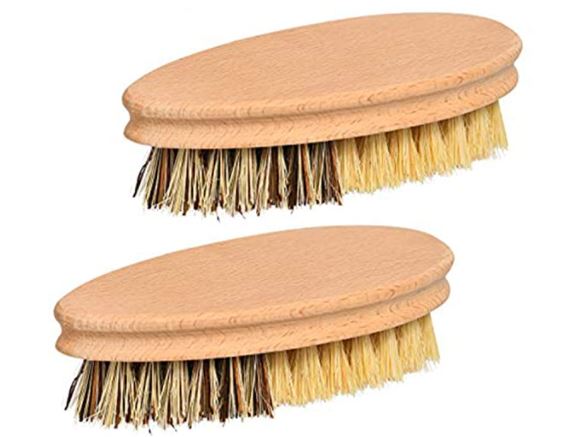 Pin
Features:
Multifunctional Brush
Soft & Hard Bristles
Natural Material
Put the cleaning power in the palm of your hands. The reimagined PalmBrush Vegetable Brush now has an updated ergonomic design and a flexible bristle bed so you can clean everything from the toughest mess to delicate fruits.
To use slide on the finger until it feels comfortable on your palm. Flexible brush forms to the shape of the produce.
Use rigid head to scrape produce clean. Place in the top rack of the dishwasher to clean.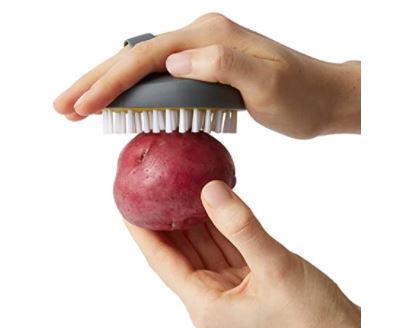 Pin
Features:
Ergonomic design
Nylon brush bristles
Easy to clean
MR.SIGA produce brush with durable nylon bristles quickly remove dirt, stain on produce, it's definitely a handy, helpful tool to efficiently get your fruits and vegetables clean which saves you precious time. Built-in plastic remover is designed for removing potato eyes.
This brush features two different nylon bristles: angled gentle grey bristles for mushrooms, delicate produce, while stiff straight white bristles for scrubbing potatoes, radish, cucumbers, and more.
MR.SIGA vegetable brush is designed with an ergonomic shape that conforms to the contour of your palm, TPR-covered non-slip surface fits comfortably in your palm, it won't slip out of your grasp even when wet for tough scrubbing.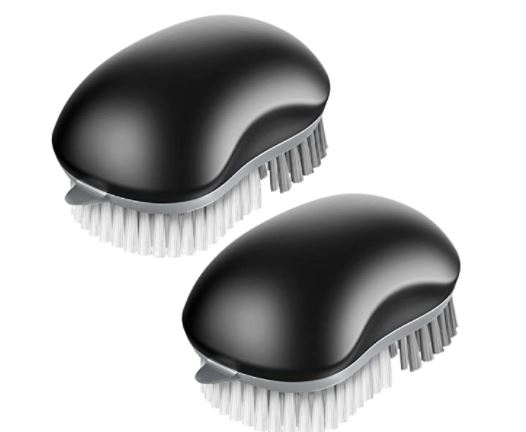 Pin
Features:
Thermoplastic Rubber
Two different nylon bristles
Easy to use and dishwasher safe