Wishing to make gluten-free bread but don't know where to start? Then you are in the right place. The first thing you need to make delicious gluten-free bread perfect for sandwiches is a bread machine with a gluten-free setting. So today, we'll be sharing with you some of the best gluten-free bread machine options available.
If the baker inside you has been awakened, do not stop. Contrary to what you may think, baking gluten-free bread isn't that hard. The secret weapon to making yummy gluten-free bread is in your ingredients and the use of the best gluten-free bread machine you can get your hands to.
Picking out a gluten-free bread machine can seem like a daunting task; there are so many available choices, so to help you out, we've come up with a list of some of the best gluten-free bread machine options for your choosing.
Best Gluten Free Bread Machine FAQ's
What is a bread-making machine?
A bread-making machine is a device that you can use at home for turning raw ingredients into the final version of a loaf of bread that one can consume. There is a bread pan that comes with paddles that are usually built-in.
How does a bread-making machine works?
A bread maker operates with a panel's help to input instructions on how you want the bread to be made. There can be a different baking cycle for different kinds of bread doughs.
There are specific premixed bread recipes that are available in the market for use in a bread maker. Usually, bread makers take a few hours to make a loaf of bread. Read everything you need to know about the different types of Gluten-Free Bread Machine Mix options in the market and find the best for you.
Do you need a gluten-free setting on a bread machine?
Nearly all bread machines are different. To make gluten-free bread, your bread maker should have the Gluten-Free setting if your machine has one. If you don't have this option, use a quick program that features one mixing cycle rather than two, usually used when making wheat bread.
Why does my gluten-free bread collapse in a bread machine?
Too much liquid, and you'll get a loaf that rises, then collapses; the gluten has expanded and thinned too much. Varying the liquids in your bread machine recipes will allow you to produce very different types of bread, in both flavor and texture.
Does yeast work with gluten-free flour?
Gluten-Free All-Purpose Flour is ideal for yeast baking because you can control the amount of xanthan gum in your recipe, and the blend of refined starches offers a wide range of options, texture-wise.
Is a bread maker worth it for gluten-free bread?
Having a disease or deciding that a particular diet is best for you is not easy, but some things can make it a bit better. Your best gluten-free bread maker can do that for you.
All you have to do from now on is add the ingredients into the pan, select the cycle, and press the Start button. It's worth getting a bread maker since gluten-free loaves are not exactly cheap.
What factors should you have in mind when choosing the best gluten free bread machine?
Loaves size settings. There can be many loaf sizes. You need to ensure that the bread maker has loaf size settings to set the loaves size according to your needs.
Crust settings. It will be nice if your breadmaker has crust settings to decide how much dark crust you want.
Viewing window. As simple as this sounds, a viewing window is a transparent window through which you can view and inspect how your bread looks when being cooked.
Keep warm and timer settings. This setting is for all those who would like to enjoy their loaves of bread later in the day after it has been made. This ensures that it remains warm and fresh.
Kneading paddle. A kneading paddle can come in various shapes. Most bread makers come with one kneading paddle, but two are recommended for a good knead.
The gluten-free bread settings. If you aim to make gluten-free bread, you must ensure the bread makers you are looking at have the option of a gluten-free set on the panel.
The noise the bread maker makes. The sturdier models with the best bread makers will not move as much and not make too much noise.
Best Gluten Free Bread Machine
You control your bread's ingredients and nutritional content when you make it yourself, so it's easier to make healthy loaves.
With 12 preprogrammed cycles, you can make everything from healthy whole grain and gluten-free loaves to the dough for sweet, gooey cinnamon-raisin buns.
Make bread the way you like it with two loaf sizes and three crust settings to choose from for light, medium, or dark crust. The machine is excellent for prepping dough for pizza, dinner rolls, cinnamon buns, and more.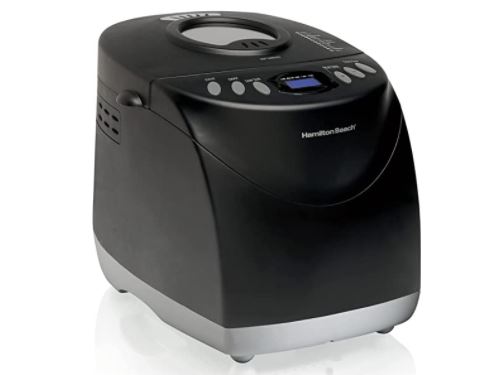 Pin
Features:
Versatile
12 Cycles
Nonslip feet to securely sit on the countertop
Fresh-baked bread is a favorite in every home; this electric bread maker bakes a 2-pound loaf in less than an hour with the Expressbake cycle.
Expressbake setting for quick bread in less than an hour. Or 13-Hour Delay Timer to wake up to freshly baked bread in the morning.
Prepares a wide variety of homemade bread with three crust settings to customize your bread just the way you like it. Effortlessly mixes, kneads, rises, and bakes up to a 2-pound loaf of bread all in one unit.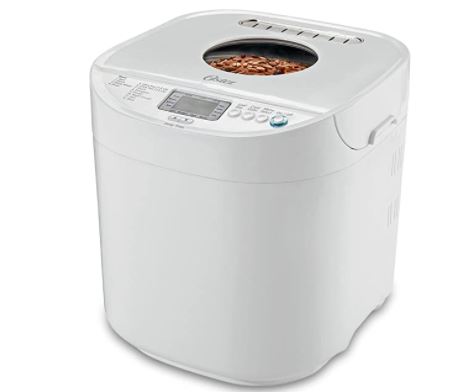 Pin
Features:
Aluminum
A warm setting keeps the loaf warm
2-pound loaf capacity
This is a versatile and compact automatic bread maker offering a variety of crust colors and loaf sizes, as well as preprogrammed menu options.
The LCD offers a clear view of countdown time, current cycle, and selected options—12 preprogrammed menu options for various bread.
Counter-friendly and compact design with a full-size vertical baking cavity. The non-stick baking pan is removable for easy cleanup.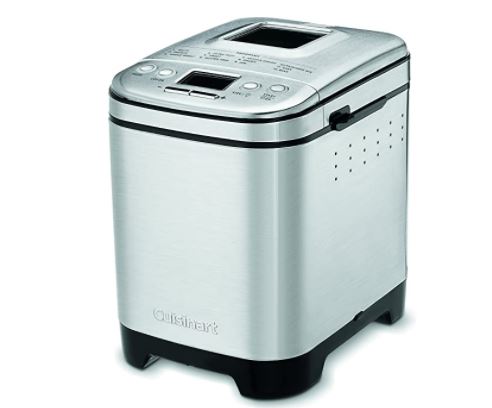 Pin
Features:
Removable, non-stick paddle
Audible tones indicate time to add mix-ins
60-minute keep warm cycle
Thoroughly knead the dough for superior results. Both the Baking Pan and Kneading Blades are non-stick coated for easy cleaning and removal of bread.
Gluten-Free, Salt-Free, Sugar-Free, and Vegan courses allow you to avoid unwanted ingredients and are specially designed to produce the best results for each type of bread.
A large, easy-to-read LCD Display with convenient keycode on the lid simplifies course selection. Heaters on the bottom and lid of the breadmaker promote even baking and browning.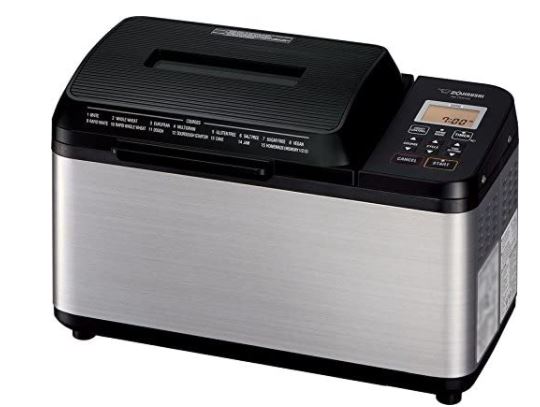 Pin
Features:
Double Kneading Blades
Large Viewing Window
LCD Display
The Custom Loaf knows the baking time when you make a selection. Choose your setting, set a custom time you'd like your bread to be ready in, and it will tell you when to add in fruit or nuts at the perfect time and also customize it so that you create your masterpiece.
Automatic programs include; yeast-free, crusty loaf, dough/pasta & jam. 9 Custom settings to create and store your recipes.
Get a clear reading on automatic or manual settings' progress from dough to perfection on the intelligent LCD.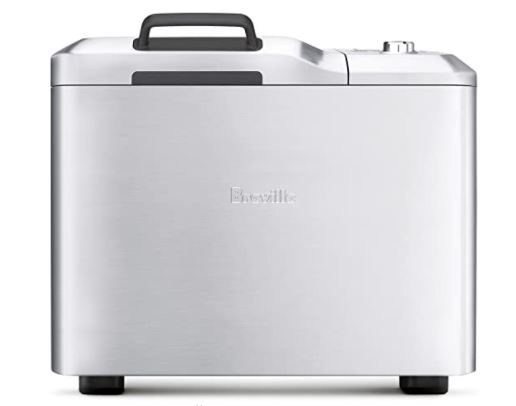 Pin
Features:
Automatic Programs with LCD Display
Collapsible Kneading Blade
Automatic Fruit and Nut Dispenser
Best Gluten-Free Bread Machine Additional Tips
Always make sure to read the user manual properly. All of it, not just the words for the gluten-free cycle. It will teach you how to use your bread maker properly.
And always add the ingredients in the order stated in the user manual. Correctly measuring the ingredients is just as important.
You should definitely get a cookbook with gluten-free recipes for bread machines and try a bunch.