In search of the best wooden spoon? We hear you! There are some kitchen tasks only a wooden spoon will do, and since you know this too, we'll be showing you some of the best wooden spoon options in the market now so you can add this handy and helpful kitchen it to your arsenal.
Kitchen spoons are not the ones you use to eat or measure ingredients. They are the spoons you reach for repeatedly to aid in meal prep, dinner plating, baking projects, and entertaining. And wooden spoons are often the ones you rely on to do all the hard work. You may not need an entire collection, but you know you can always count on your wooden spoon not to scratch your pots or leach chemicals.
As you can see, spoons are the practical backbone of any kitchen, But with so many models, it may sound a bit challenging knowing what to pick. Below you'll find a list with some of the best wooden spoon alternatives, wooden spoons that are durable, high-quality woods, and that won't crack. Make sure you choose your favorite.
Best Wooden Spoon FAQ's
What is the function of a wooden spoon?
Wooden spoons give you a firm, strong handle to hold, making stirring easier and more effective and without any fear of the handle breaking. It also provides you with a reliable tool for scraping things off the sides and bottom of your pan. When introduced to high temperatures, metal spoons can get hot.
What kind of wood is best for wooden spoons?
The best is hard, lightweight, durable woods, like beech, maple, or (the new eco-friendly favorite of many manufacturers) bamboo. Wood isn't only naturally a little giving and softer on the hands, and, with time, it will slowly conform to the shape of your hand and pot.
What wooden spoons do chefs use?
Maple, cherry, olive, and beech hardwood spoons are durable and less likely to crack than pine models. Spoons made from these materials are likely to last a long time. Bamboo is another durable material often used to make wooden spoons.
What should you avoid when using a wooden spoon?
Don't use olive oil or vegetable oil because they can make wood musty. When you see wooden spoons or cutting boards be cracked, you need to remove them. Wooden tools also can absorb smell from food with a strong smell like garlic or oil.
What are other options for wooden spoons?
Compared to wood, silicone spoons, spatulas, and kitchen tongs are more sanitary and easier to maintain. They won't pick up color and catch smell, and they can safely be cleaned in the dishwasher (unless they have wood handles).
When should you get rid of a wooden spoon?
The drying cycle is hazardous to wooden spoons. Food can get stuck in those cracks and crevices, leading to bacterial growth you can't easily wash or clean away. If your spoons start to show these signs of damage, it's better to pitch them and start new.
What should you consider when buying a wooden spoon?
Durability. A wooden spoon should be durable enough to last for many years and not crack or split easily. Choose a wood known for its durability and high quality, such as beechwood, maple, olive, cherry, bamboo, oak, and teak.
Design. There are several options, from curved handles to comfort grips or round or slotted to flat edge heads. Select the spoon, or spoons, that feel comfortable in your hand and will do the tasks you want and need it to do.
Functionality. The shape and size of the head, along with the length of the handle, are critical features to how well the spoon functions in your cooking environment.
Best Wooden Spoon
These wooden kitchen utensils were developed with the "function first" philosophy; created with the most comfortable hold,
American walnut is tumbled for an ultrasmooth finish, and the handles are tapered for a natural grip. Use these essential spoons for food prep, cooking, and serving.
Set of four includes a blunt-end spoon, slotted spoon, 12″ spoon, and 14″ spoon. Safe for use with nonstick, glass, and porcelain cookware.
Pin
Features:
Crafted from FSC-certified walnut
Hand-wash.
Made of solid, one-piece beech wood, these sturdy wooden tools are comfortable, durable, and versatile. The line includes large, medium, and small spoons, slotted spoon, corner spoon, sauté paddle, and turner.
The broad, deep spoon heads are designed to scoop generous portions of your favorite sauces and foods. Their distinctive straight-sided shape allows better reach along the walls and into the corners of your cookware.
Use the sauté paddle and turner to flip, stir, scrape and chop your food in your pan. Natural oil finish coats and protects the wood. Safe for nonstick cookware and comfortable to hold, the wooden tools are handy for a host of cooking tasks. Hand washes only.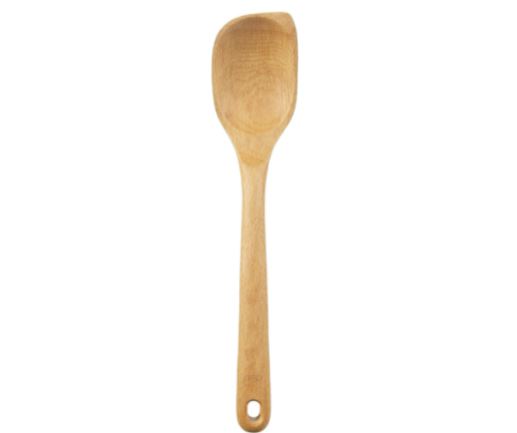 Pin
Features:
Safe for nonstick cookware
Natural oil finish
Handwash only
Solid one-piece beech wood
Lazy Spoon is a favorite of home cooks and professional chefs, with a notch that serves as a spoon rest; the lazy spoon sits on your pot's edge, drips stay in the pan, and the handle stays cool to the touch.
Each spoon is a work of art, hand-made and sanded until smooth, soft, then oiled with food-grade mineral oil, making a perfect gift for your favorite chef or foodie.
They are ergonomically designed to work at the most appropriate angle for left-handed or right-handed cooking, making cooking much easier and more comfortable for long periods.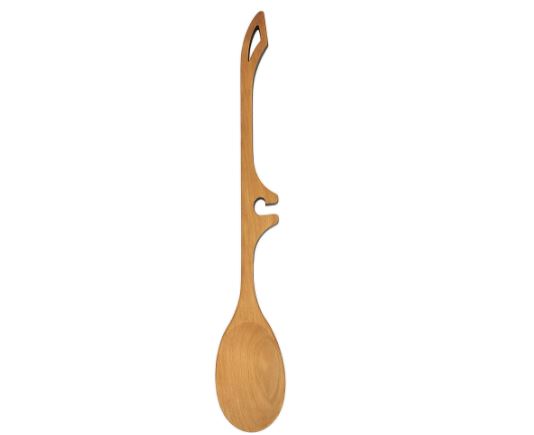 Pin
Features:
Handcrafted
Cherry Wood
Versatile
This Olivewood Slotted Spoon, by Sabatier, is perfect for stirring and draining. It is maOlivewoodvewood, a dense wood, thereby resisting odors and stains better than other types of wood.
Preferred for long-life durability, versatility, and beauty, the rich color, and exciting grain patterOlivewoodvewood make each piece unique. Harder than most woods but safe for use on all cookware surfaces; will not scratch porcelain, ceramic, glass, enamel, or nonstick.
Hand washes only and occasionally coat with mineral oil to keep wood looking its best. It will last a lifetime if properly cared for. The slotted spoon measures 13-3/4 inches long.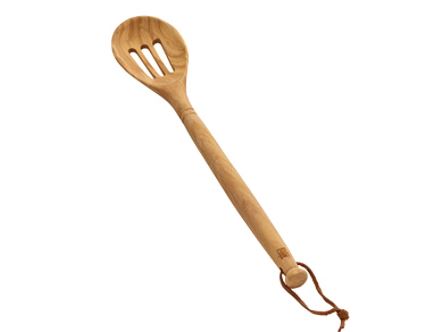 Pin
Features:
Durable
Hand-wash
Olivewood
This stunning range from Mason Cash takes inspiration from the professional baker and is full of clever, innovative solutions to make baking at home simple and fun.
Following on from the success of the Innovative Kitchen Tools, the products in this range are built for purpose, and each one has been thoughtfully designed to bring out the best in your bakes.
The spoon features a heat-resistant silicone jar scraper and spatula on the handle.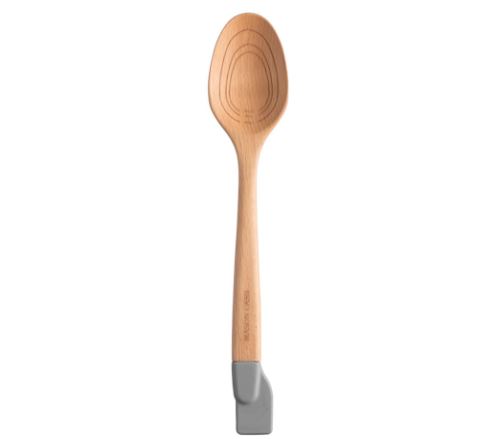 Pin
Features:
Solid beech wood spoon
Jar scraper and spatula on the handle
Hand wash only