If you are a fan of potatoes and it doesn't feel like the holiday season if you are not eating mashed potatoes, then you need to make sure you have the best potato masher as part of your kitchen arsenal. No kitchen is completed without a potato masher, so today you'll get to know about some of the best potato masher options around.
Every home chef who's had their chance at making this comforting side dish is aware that the key to a successful batch of mashed potatoes is in the texture. Without the right texture a mashed potato is not a mashed potato; and here is where your handy and trusted potato masher comes to the rescue.
Now that you are aware that the struggle for the best potato masher is real, we are here to give you a hand so you can pick the potato masher of your dreams. We get that it may be a bit tedious having to go through many models, so we picked some of the best potato masher alternatives currently trending on the market.
Best Potato Masher FAQ's
What's the difference between a potato masher and a potato ricer?
Potato mashers are handheld tools that are used to press and mash potatoes manually. The heads vary: Pick from perforated or tined designs for a finer and smoother consistency, or single-wire, which makes a more coarse, rustic mash.
Ricers use a plunger to push the cooked potato through holes in a perforated basket. They produce a fluffy mash, which means airier mashed potatoes.
What is the purpose of a potato masher?
A kitchen utensil is used to puree potatoes after they are cooked or to puree other soft foods for making food dishes requiring a smooth textured ingredient.
What can I use instead of a potato masher?
A fork makes a simple potato masher substitute, especially if your goal is mashed potatoes that are hearty with a creamy and slightly lumpy texture. With the fork, press down on the cooked potatoes so that they mash through the tines.
Is a potato masher worth it?
If you're after a bowl of textured spuds, especially good when adding extras like herbs or cheese, a masher should be your choice. If fluffy and smooth is your idea of potato nirvana, go with a ricer. Either way, be sure to buy a durable model that feels good in your hand.
What should you consider when choosing a potato masher?
Built and construction. Perforated and tined heads produce a smoother, more even result than single wire heads; larger perforations require less force than smaller ones but give you a coarser result.
Material. Most of the best mashers have stainless steel heads, which are durable and usually rust-resistant, but if you plan to use your masher on a non-stick pan, you may want to consider a softer material like nylon or silicone to avoid scratches.
Size. A masher with a large head may make short work of your mash, but it could be more cumbersome to use for smaller batches and harder to store.
Handle. Choose a potato masher with a long and sturdy handle to keep your hands out of the mash.
Ease of cleaning. Nobody wants to spend too much time cleaning; this is why your masher should not just be dishwasher safe; it should also be easy to clean manually.
Best Potato Masher
Get a smooth, powerful mash with the innovative OXO Good Grips Smooth Potato Masher. It's designed with a broad, non-slip, horizontal handle that lets you press straight down and absorbs pressure, reducing strain even through pounds of potatoes.
The fine-grid, stainless steel mashing plate yields lump-free mashed potatoes. This tool is also ideal for mashing yams, carrots, or other root vegetables as well as apples and bananas.
Great for prepping homemade baby food. Dishwasher safe.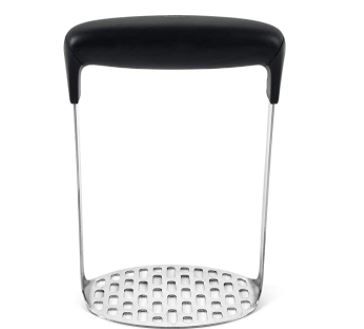 Pin
Features:
Durable stainless steel construction
Fine grid pattern
BPA free
Silicone coating on curved mashing tines prevents scratches on your cookware. This means you can use it in stainless steel bowls, cast iron pans, and non-stick bakeware without worry.
The curved wire design mashes your food to your desired texture without over-processing it. Mash potatoes, avocados, carrots, cauliflower, pumpkin, butternut squash, sweet potatoes, and other vegetables; alternatively, use the masher to mix ground meat with herbs, spices, and more.
The metal handle is durable and visually striking. The ergonomically shaped handle allows for a comfortable grip, making this kitchen tool perfect for mixing, folding, serving, spreading, scraping, and flipping.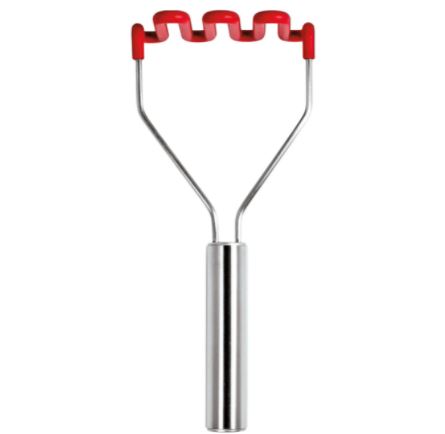 Pin
Features:
BPA-free silicone
Scratch-resistant
Stain-resistant
Made with sturdy, easy-to-clean stainless steel, this mini masher is ideal for mashing potatoes and other root vegetables, avocados for guacamole, or apples, squash, or bananas for homemade baby food.
It features a sturdy handle and is perfectly balanced so you can control the texture as you work.
Made of the most durable stainless steel and feature weighted, ergonomic handles for optimum balance and comfort.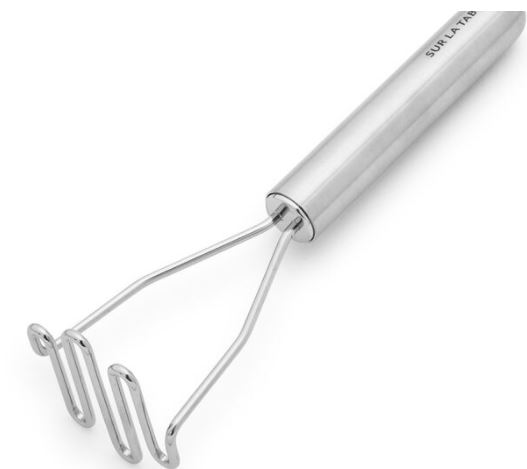 Pin
Features:
Non-corrosive 18/8 stainless steel
Ergonomic handle
Dishwasher safe
This 10.24-inch masher has a round, flat head with many sharp-edged holes for thoroughly mashing potatoes, squash, carrots, and other vegetables and fruit.
A cap between the handle and head allows the user to apply force with the side of the hand so it's not necessary to grip the handle too tightly.
The round handle has a satin finish to conceal finger marks. The handle is sealed against water and has a hanging ring so the masher can be conveniently stored on a hook. The masher is sturdy, balanced, and exceptionally comfortable in the hand.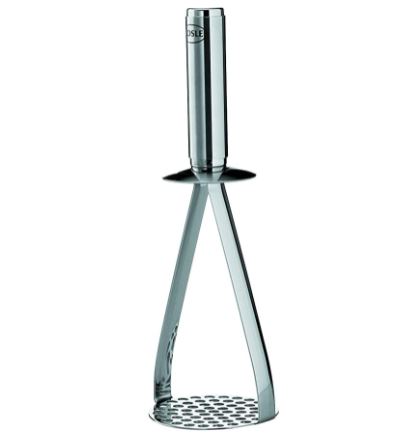 Pin
Features:
Stainless steel with satin finish handle
Sturdy, balanced
Safe to use in dishwasher
This multi-functional tool from Farberware can serve as a meat chopper or potato masher, easily chopping and stirring ground meat, mashing soft cooked foods, and chopping and stirring fruit juice concentrates, frozen fruit, or homemade sauces and spreads.
Made of BPA-free nylon, this chopped meat masher is heat resistant up to 450 degrees Fahrenheit, making it safe for all of your hot foods.
Mash by pressing blades into cooked food until desired consistency is achieved; angled blades scrape the sides of bowls and pots while mixing and mashing.
Pin
Features:
BPA-free nylon head
Easy to use
Dishwasher safe
The Zyliss Stainless Steel Potato Masher features a soft touch handle for a comfortable grip and an integrated silicone bowl scraper to help remove everything you mashed to reduce waste.
The small inner holes and larger outer holes reduce lumps. The Zyliss Stainless Steel Potato Masher allows you to easily mash potatoes, vegetables, and more.
The integrated silicone bowl scraper minimizes waste and t a soft-touch handle, ensuring a secure grip.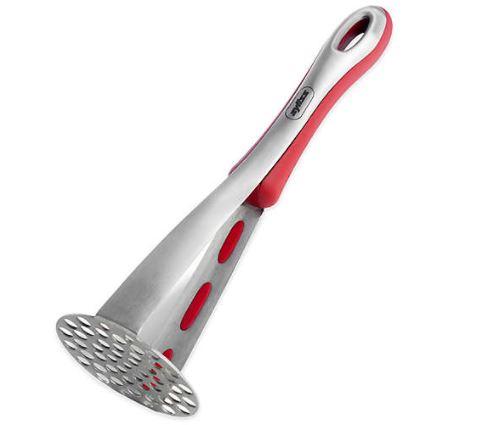 Pin
Features:
Stainless steel construction
Dishwasher safe
Soft-touch handle