Are you a fan of the handheld spiralizer? Then you are in the right place because we'll be sharing with you everything you need to know about some of the best handheld spiralizer options currently available in the market.
If you are trying to incorporate more veggies into your diet and have a small kitchen that lacks room for a hand-crank spiralizer, a handheld model is the way to go. While handheld spiralizers require a little elbow grease, they get the job done.
With many models and brands, choosing the best spiralizer alternative for your needs can get a bit overwhelming. But no worries, we've come up with a list of some of the best handheld spiralizers and everything you need to know when making your final choice.
Best Hand Held Spiralizer FAQ's
Are spiralizers any good?
Spiralizers are best known for making terrific noodles and curly fries, but they're good for a lot more than that. We found that they worked just as well for thinly slicing vegetables, perfect for speeding up dinner-time prep, bulk cooking, or for when you need to make coleslaw and salads for a crowd.
What are the two types of spiralizers?
Handheld
If you don't spiralize veggies too often, you'll probably want to stick to a handheld spiralizer. These let you control the speed at which your food is turned into spirals or shreds. These handheld spiralizers do not have as many attachments or blade options, but they can make quick work of lots of zucchini or other foods when you're in a hurry or cooking for a crowd.
Often in the shape of an hourglass, a hand spiralizer will be a bit more manual to use, so you'll have to put in more work and strength to operate.
Countertop
These are best for home cooks who are looking to spiralize veggies regularly. They also often tend to have additional blades for slicing, shredding, and more.
What are the main advantages of a handheld spiralizer?
They might not be the most sophisticated, but they're extremely affordable, usually costing around $5-$15.
They take up far less space in your kitchen and can be conveniently stored in a kitchen drawer.
Handheld spiralizers are a lot easy to clean. One of the more frustrating issues with spiralizers is the blades can get clogged after prolonged use. And the more blades and attachments a spiralizer has, the more parts there are to clean and maintain.
How do handheld spiralizers work?
Handheld models typically only have one cutting option since their blades aren't removable. Some handheld spiralizers come with vegetable peelers to create ribbons. These models require you to push and turn the vegetables towards the blade by hand.
When spiralizing using the hand-crank models, always push firmly on the side handle attached to the vegetable holder to keep the vegetables flush with the blade's surface. Otherwise, the vegetables will wobble and create stringy, uneven noodles that fall apart.
What are the best foods to spiralize?
A few vegetables were born to be spiralized according; the firm texture of root vegetables makes them perfect for spiralizing, but you can also use cucumbers, squash or pumpkin, or firm fruits such as apples and pears.
Remember that since the opening is smaller on handheld models, you can only spiralize vegetables between 1½ and 2½ inches in diameter.
How to choose the best Hand held Spiralizer?
A number of blades. Most spiralizers come with changeable blades for everything from thin curls to chunky ribbons so that you can create more than just spaghetti-like vegetables.
Ease of cleaning. While most models come with removable blades that won't add much time to your washing-up routine, some are quicker and easier to clean than others.
Durability. Ideally, you want zoodles you can count on for years, even if you use them frequently.
Type of zoodle. Many customers will be happy with any vegetable noodles a spiralizer produces, but if you're a little picky, then choose a product you know will work best for you.
Storage. No one wants to add clutter to this space, so you must consider where you're going to store it when it's not in use.
Best Hand Held Spiralizer
This multifunctional Food Spiralizer is equipped with Cuisinart's exclusive food processor blade technology, which offers home cooks three cutting options: thin or thick julienne and ribbon slice.
The unit's vertical design makes for easy spiraling and is ideal for making noodles, onion straws, potato chips, fruit chips, and more.
Additionally, its Blade Lock design eliminates the need to touch or handle sharp blades, and the entire unit is dishwasher safe.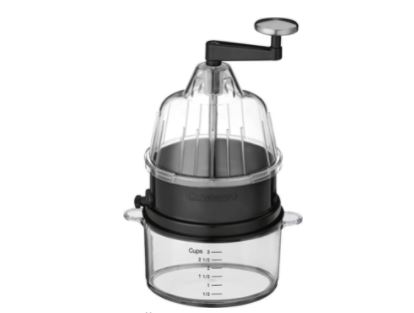 Pin
Features:
Stainless Steel
Three cutting options
Safe blade-lock design
Make a beautifully decorated zucchini spaghetti! With Kitchen Active, Your wait to find the perfect pasta maker is finally over.
This simple tool is all you need to get yourself on a fast track to weight loss, healthful living, increased energy, and vitality. Perfect for following a low-carb, gluten-free, or Paleo diet.
By simply giving a twist, you can turn your whole vegetables into a gorgeous noodle soup with this small cutter – perfect for vegetable noodles, salads, and gourmet-style garnishes.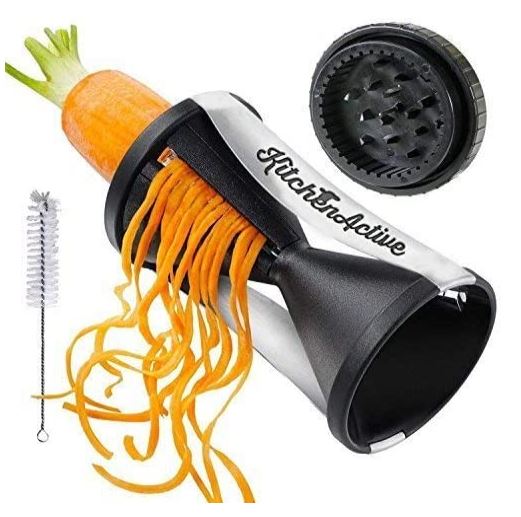 Pin
Features:
ABS plastic
Stainless steel blade
Dishwasher safe
The OXO Good Grips Handheld Spiralizer creates curly noodles from zucchinis, cucumbers, and other long vegetables for pasta-like dishes, salads, and garnishes.
The open-blade design also accommodates round vegetables like potatoes and beets for curly fries, frittatas, and more. The included food holder keeps hands safe and helps to use all of the vegetables, minimizing waste.
The Good Grips Spiralizer is BPA-free and features green accents. When you're finished, clean it in the dishwasher and use the food holder as a cap for safe storage.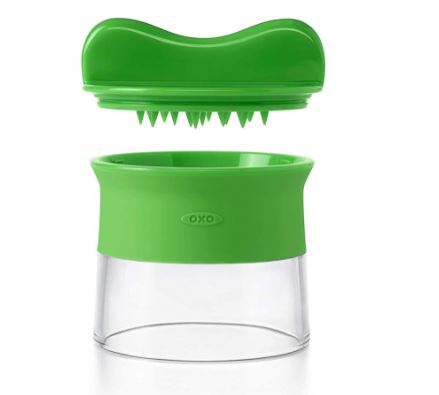 Pin
Features:
Compact size
Non-slip grip
Plastic
This vegetable slicer by Veggetti instantly turns your favorite vegetables into noodles to make delicious pasta without carbs.
Versatile kitchen tool makes vegetable spaghetti stir fry & more Great for zucchini noodles spaghetti squash carrots cucumbers & other vegetables.
The spiral slicer for vegetables has dual stainless steel cutting blades for thick or thin strands of pasta hand wash.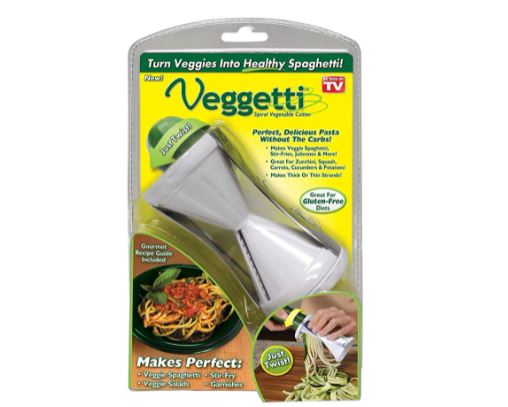 Pin
Features:
Versatile
Plastic
Stainless Steel Blade
Six interchangeable blades meet all your slicing and grating needs, while our spiralizers are perfect for zoodles, healthy vegetable pasta, and gorgeous garnishes.
This vegetable mandoline slicer can be fully disassembled with ease, and the included blade box means that worrying about storage and organization is a thing of the past. Plus, this kitchen gadget is dishwasher safe.
It comes with a catch tray that makes cooking so much more convenient, with no mess and no messing around. It makes cleaning effortless, and the non-slip base also makes your slicing and grating that much easier.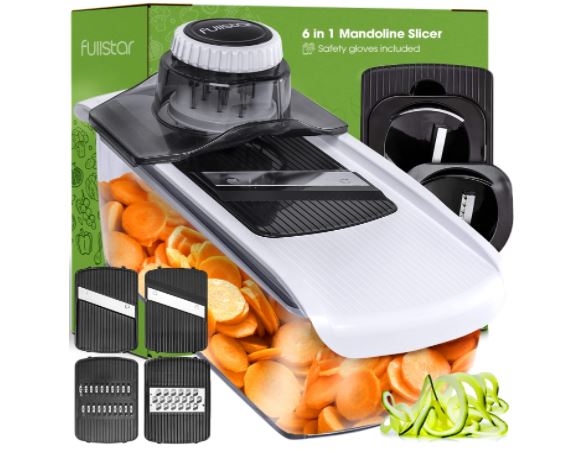 Pin
Features:
Stainless Steel interchangeable blades
Catch Tray
Dishwasher Safe
The Fullstar spiralizer comes with a removable container to catch all of your freshly sliced veg and lid, so you have the option to store it for later.
Four options to fulfill all of your spiralizing needs in 1 space-saving kitchen gadget. Perfect for zoodles, healthy vegetable pasta, and gorgeous garnishes and all available with just an easy push of a button.
Unlike large units, which are a hassle to store and clean, this pocket-sized spiralizer fits just about anywhere.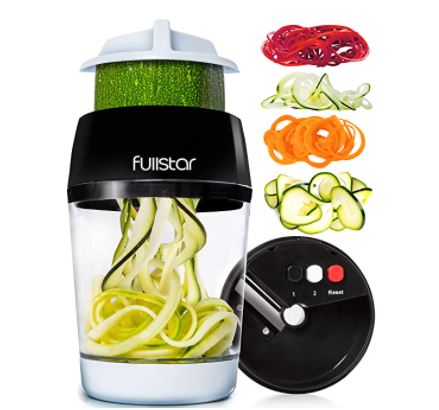 Pin
Features:
Stainless Steel Blade
Compact Desing
Mess-free storage
This spiral vegetable slicer is made of FOODSAFE BPA-free plastic and premium-grade stainless steel blades.
With a two-ended construction that allows you to make two sizes of veggie noodles; wide spiral ribbons and thin, spaghetti-style noodles with less waste.
It is also a portable, handheld kitchen tool great for travel, on-the-go, camping, takes up minimal storage space.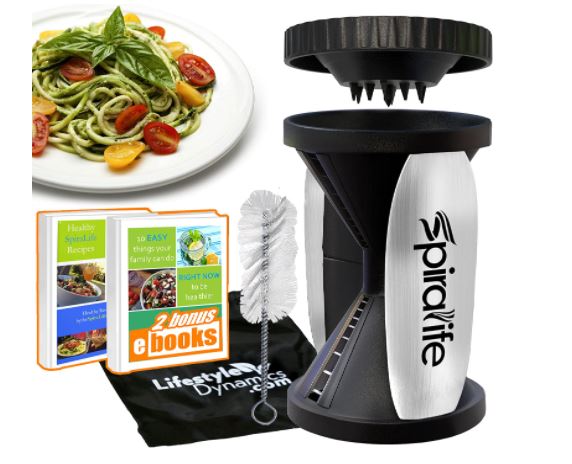 Pin
Features:
BPA-free plastic
Premium grade stainless steel blades
Easy to clean
If a handheld spiralizer is too complicated or it just isn't what you are looking for, then perhaps you'll be interested in purchasing a food processor with spiralizer or maybe an Electric Spiralizer.