If you enjoy cooking with spices, then you probably should invest in a spice grinder. This tool, essential for many home chefs, allows them to experience the aromatic satisfaction of grinding fresh spices. So today, we'll be telling you all about some of the best spice grinder alternatives out on the market.
If you are new to grinding your spices, you ought to know that pre-ground spices only offer you a fraction of the flavor and aroma compared to freshly ground spices. If you are determined to get the most taste out of your spices, then you need to arm yourself with the best spice grinder you can find.
If you are currently looking for a spice grinder, you will probably come across different models; different features; it may get a little challenging knowing what to pick, so we've come up with a list with some of the best spice grinder options that are worth your money.
Best Spice Grinder FAQ's
Is a spice grinder the same as a coffee grinder?
While spice grinders and coffee grinders have similar functions, a few key differences make each grinder better for its intended purpose. A spice grinder typically uses blades, whereas a quality coffee grinder uses burrs that produce a more uniform grind that makes for a more flavorful cup.
Can I use a coffee grinder as a spice grinder?
You can get an electric spice grinder or buy a second coffee grinder devoted uniquely to turning whole spices into powder. You can grind spices in a regular blade coffee grinder without tainting it forever.
Is a spice grinder better than a mortar and pestle?
Compared to the mortar and pestle, an electric blade grinder speeds up pulverizing spices and proves particularly useful when grinding a big batch of spices. It also can whittle down spices to a smaller, more fine consistency.
Can I grind spices in Nutribullet?
The Nutribullet is a multipurpose kitchen tool; its milling blade allows you to grind spices, nuts, seeds, and grains.
What type of grinder is the Best Spice Grinder?
Manual grinders can be broken down even further into two subcategories: ratchet and mill-type grinders. It may seem odd that some would opt for manual grinders given the conveniences of the more advanced electric models, but manual grinders may be preferable if you'll only be grinding small batches of spices.
Electric grinders can be clunky, difficult to store, and not to mention noisy. But if you plan to regularly grind large batches of spices, nuts, or seeds, electric grinders are going to be the best candidate for the job.
What to consider when choosing a spice grinder?
Capacity. A mid-range grinder has a total of about 70 grams, but you'll find grinders ranging in capacity from 40 grams to 90 grams. Many grinders will have removable storage containers so you can preserve any leftover spices.
Noise. High-powered electric grinders come with noisy motors; however, some electric grinders use advanced technology to minimize noise levels.
Versatility. If you want to cut down on the number of kitchen gadgets used for chopping, grinding, and crunching, consider choosing a model that can do it all.
Is a spice grinder easy to clean?
Always be sure to follow the manufacturer's instructions when it comes to cleaning and maintenance.
Some grinders have removable components that can be put into the dishwasher (on the top rack) for cleaning.
Many are safe to wash by hand with mild dish soap and warm water. If the bowl is fixed, you can typically clean it with a damp paper towel followed by a thorough wipedown with a dry paper towel.
Best Spice Grinder
The Hamilton Beach Fresh Grind Coffee Grinder is quieter than the leading competitor, which means you can turn your favorite coffee beans into fresh grounds with less noise.
It makes quick work of turning your beans into grounds for brewing. The durable stainless steel blades can also grind spices, and the removable grinding chamber makes filling and clean up easy.
Durable stainless steel blades grind coffee beans and spices with ease. The cord wraps around the base in a hidden compartment for neat storage.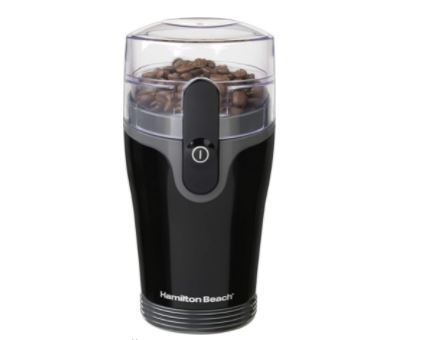 Pin
Features:
Stainless Steel
Removable grinding chamber
Grinds coffee and spices
This vintage spice grinder has a short handle, detachable ornate holder, and sliding pour hole. With corrugated rollers, Turkish hand mills produce a more even grind size distribution.
BA Pepper Grinder is available for grinding spices such as pepper, coriander, cardamom, mustard, cumin, sumac, rice. Not available for salt, coffee, and big seeds such as nutmeg, corn, or wet seeds.
It can be used with a bowl and poured after grinding or used as opened directly to your meal. You can adjust pepper grinders' size with the screws on top. This decorative spice grinder will be an excellent addition to display in your kitchen and home decor.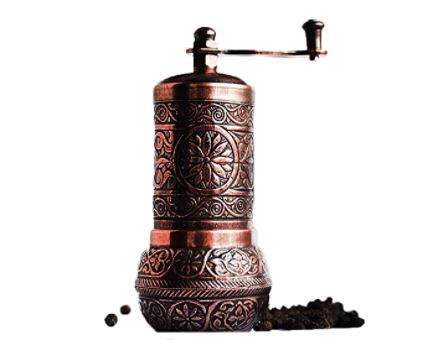 Pin
Features:
Decorative
Adjustable
Durable
There's nothing quite like the smell and taste of freshly ground spices. And with the Cuisinart Spice and Nut Grinder, it's easier than ever to efficiently grind any spice or create original, tantalizing spice blends.
The blades are uniquely designed for grinding spices and nuts with a simple press on the lid, sealing in all the finely ground spices for immediate use or storage.
Efficiently grind any spice or create original, tantalizing blends to spice up your dishes and beverages.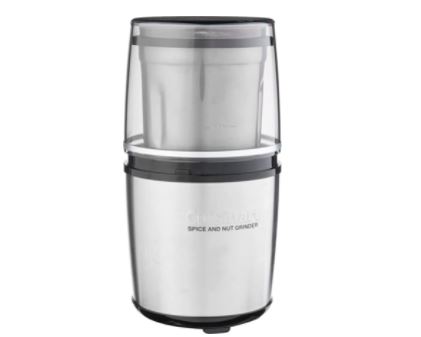 Pin
Features:
Heavy-duty motor
Dishwasher-safe lid and bowl
Bowl holds 90 grams
The KitchenAid Blade Coffee Grinder makes quick and straightforward grinding beans for up to 12 cups of coffee.
Markings on the inside of the stainless steel bowl indicate suitable bean levels for 4, 8, 10, or 12 cups of brewed coffee, and the clear top cover slides on for one-touch operation.
Stainless steel spice grinding bowls with spice optimized blade design for spices such as coriander and cumin.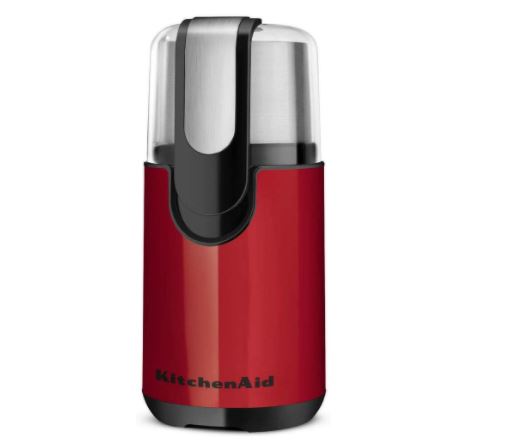 Pin
Features:
4-ounce Stainless Steel Bowl
Stainless Steel Blade
Clear Top Cover
Stand out from the crowd in how you grind your salt, pepper, and spices by choosing a Ratchet Grinder from Swiss kitchen innovator Kuhn Rikon. Unlike traditional salt and pepper mills, it features a ratchet operating system.
Move the handle back and forth to grind, which requires a minimum of effort. As well as being extremely easy to use, the Ratchet Grinder is also designed for longevity thanks to its long-lasting ceramic grinding stone that is not subject to rusting.
Adjust your grind at any time via the easily-accessible dial on the base.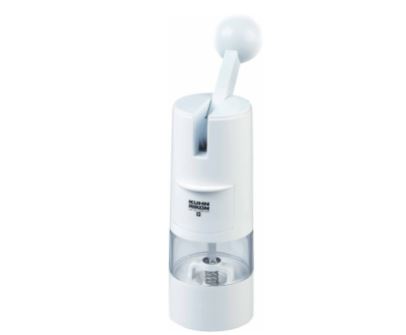 Pin
Features:
Ratchet operating system
Ceramic grinding stone
Plastic
The stainless steel blade of good quality offers powerful and quick performance, grinding coffee beans sharply and evenly.
Grinding bowl with 2-blade for coffee beans, grains, nuts, and spices. Chopping bowl with 4-blade for garlic, ginger, chilies, and vegetables.
Easy and safe locking. You need to switch the bowl counterclockwise to remove it, clockwise to lock it, which is convenient.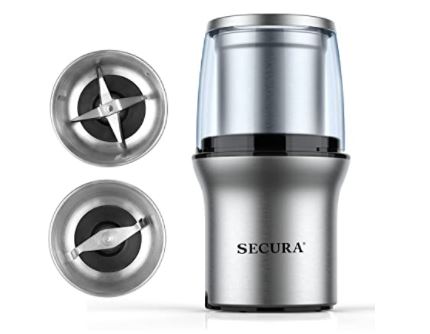 Pin
Features:
Stainless Steel bowls
200 watts
Dry and Wet Grinding