Every baker dreams about using fresh ingredients because they know only then can they obtain the best results. If you want to make baked goods that will leave others wanting more, fresh flour is a must; and one way to get fresh flour is by getting your grain mill. So today, we'll be sharing with you some of the best grain mill alternatives in the market now.
Believe it or not, most of the time, we tend to neglect the quality of this primary ingredient and replace it instead with commercial products that no longer offer the nutrients we need. Then you may think about getting flour grounds from health food stores; however, these are often pricey for small quantities.
It makes total sense to get the grain mill that can provide you with your own freshly ground flour. Without a doubt, fresh flour is no match to the cultivated varieties, offering the most nutritious and flavorful, with several health benefits. If you don't wish to go through the daunting task of looking at a dozen models, we've narrowed it down to a list of some of the best grain mill options that are worth it.
Best Grain Mill FAQ's
Why should you get the best grain mill?
A valuable benefit of grinding your own is that you have complete control over the end product, provided with the right equipment. You can grind as fine or coarse as you like and will probably end up creating a few of your signature blends using your favorite cereals, legumes, and seeds.
If you aren't convinced yet, here are a few more benefits:
The price of whole grains can be more economical
Whole grains last longer in storage than refined flours
Home ground flour is fresher, healthier, and more nutritious because it contains all kernel germ, bran, and endosperm parts.
Home milling gives you complete control over what ends up in your flour, with no hidden or undesirable additives.
Is it cheaper to mill your grain?
Grinding your grain is cheaper in the long run. However, unground whole grains are almost always more affordable, especially if you can buy them in bulk. When you grind your grain, you can have good-quality, organic, freshly-ground flour for much cheaper than purchasing pre-ground fours.
How much does a grain mill cost?
You could spend anywhere from $20 to $900, which is a pretty extensive range. The most affordable grain mills are manual models that don't offer many special features.
What should I look for in the best grain mill?
Considerations when choosing a mill include the power source, type of milling mechanism, convenience, the heat produced through the process of milling, flour needed to mill, and cost of the machine. Manual mills are for the energetic person because grinding by hand is a workout.
What can I grind in a grain mill?
You can grind grains like wheat, rye, Kamut, triticale, millet, teff, barley, quinoa, rice, buckwheat, oats, sorghum, amaranth, the list is endless. Some grain mills are also designed also to grind corn, dry beans, and lentils, which will damage other grinders.
What are models of grain mills available?
According to the power source, you can find the following models:
Manual Mills
Today, many models are still powered manually with a hand crank or flywheel, others by electricity, and some can be converted for a combination of both.
Usually less expensive, manual models have less downtime than their electrified cousins, simply because they don't have any electrical components to burn out or break down potentially.
Manual grinders offer a rustic, hands-on experience that you won't find by flipping on a switch. Keep in mind that manual models are labor-intensive and require hard work for large batches of flour.
Electric Mills
These are the quickest and easiest to operate and are still relatively inexpensive for the job they do.
They also have a greater range of texture settings so that you can custom design your own blends specifically for your needs. Most will excel at creating the very fine flour needed for baking puff pastries and cakes with a delicate crumb and coarser flours, meals, and even cereal mixes.
Electric models are also portable. They don't require any stabilizing anchors and can be tucked into an out-of-the-way spot when not in use.
Convertible Mills
These mills are a hybrid that can be converted from manual to electric operation and back again.
When the power is interrupted, or you want to hand-crank a small batch of flour, a convertible model gives you the option to change power sources, usually with a simple motor attachment.
What are the two types of home grain mills?
There are a couple of different grain mills on the market, and they grind wheat in different ways.
Burr Mills. The oldest grinding models are the most common. Burrs consist of two grinding plates, either stone or steel. One plate is fixed to the bedstone housing unit, while the other plate is rotated and is known as the runner.
Impact Mills. Sometimes referred to as micronized, impact mechanisms provide the high-speed output of the fine and very fine flours best suited for baking bread, cakes, and pastries. Impact mills are electric only, and in place of burrs, the grinding chamber consists of two stainless steel plates with concentric rings of teeth, or fins.
Best Grain Mill Options
This grain mill for flour is powered by a 1,250-watt LG Electronics motor that gives both capacity and longevity; an electric flour mill grinder that's sturdy, fast-grinding, and built to last.
An electric grain grinder that grinds over 100 lbs of flour in 1 hour without overloading; unlike other flour mills, this flour grinder mill is also an electric wheat grinder, corn grinder, rice grinder, or brewery grinder.
Wondermill flour grinder mill complies with the most demanding quality and safety standards. With only five parts and no complicated settings or switches. You can also count with an easy-clean cyclo-canister and filtration tube that catches all ground flour without the big mess. This mill has proven to be perfect for grinding spices, you can also check what is the best spice grinder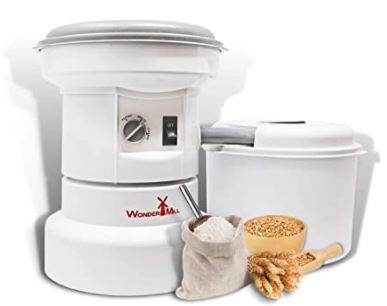 Pin
Features:
No overheating
Easy-clean cyclo-canister
Filtration tube
Burst grains, dried beans, and other legumes into fresh & nutritious flour. Instead of grinding, Kitchen Mill uses a surgical stainless-steel Micronetic milling chamber to produce the lowest starch-damaged flour (loftiest bread) at the lowest temperature and the highest output to preserve nutrients.
The mill was not designed for easy cleaning, but as it turned out, it is easier to clean off any of the other Mills on the market today. The Kitchen Mill also has the most minor harborage areas for bacteria.
The patented, stainless-steel, microkinetic milling chamber never gums, jams, or glazes. The flour bin is see-through for production convenience.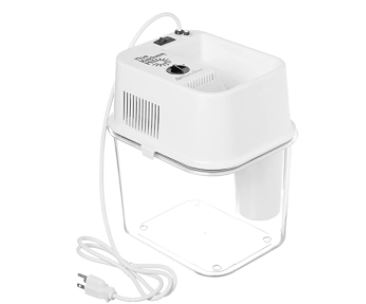 Pin
Features:
Efficient
Advanced, durable design
Compact
Powerful motor
The Wonder Junior hand mill can grind 1.25 cups of flour in a single minute and produce 65% more than other more expensive hand-operated grain mill hand cranks but for half the price. BPA-free; grinds by keeping all the health benefits and nutrients intact.
Built to last a lifetime of use with a heavy-duty unibody construction made from high-quality aircraft aluminum and super strong epoxy coating, so it's lighter than other hand crank mill grinder and grain mills in its price range.
Easy to clean and almost indestructible; can be used as a grain mill grinder, manual coffee grinder, corn grinder hand crank, or spice grinder.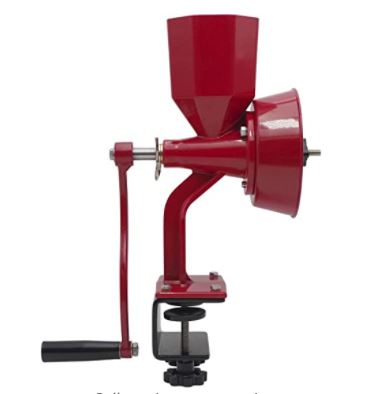 Pin
Features:
Heavy-dutty construction
Lifetime durability
Strong table mount
The NutriMill Classic keeps your flour at temperatures typically about 118° that protects the nutrients in your grains. With improved texture control, more robust milling heads, unique Force Flow sound/air chamber design, which results in 50% noise reduction, improved motor cooling, and longer life.
Powerful 10 amp, 1-3/4 hp motor quickly produces your choice of fine, medium, or coarse flour. Grind up to 5 cups of flour per minute.
Stainless steel impact grain milling heads provide a 400% adjustment range from fine to coarse flour, ten times greater than earlier impact mills.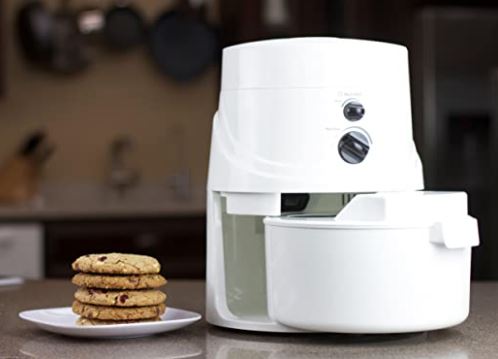 Pin
Features:
Stainless steel
Advanced technology
Protects nutrients
The versatile KoMo FidiFloc combines a motor-powered grinding mill with a hand-operated flaking mill. The motor on the FidiFloc 21 is rated at 250 watts and includes a manual flaker.
The FidiFloc 21 produces 5-6 ounces of flour per minute for bread flour texture. Precisely fitted corundum-ceramic burrs grind to any texture you choose, from fine flour to coarse meal or cracked grain.
All by simply rotating the hopper to align with your choice on the texture scale. The hopper holds one lb., 15 oz. of grain, enough for over two pounds of whole-grain bread.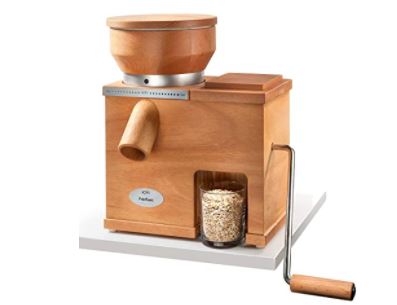 Pin
Features:
Beechwood construction
Grinds from fine flour to coarse meal
Flake and grind grain all in one unit
Additional Tips on Best Grain Mill
If you want to get the freshest flour, only grind as much as you intend to use in the short term. Once the kernel is cracked, and the bran has been exposed to oxygen, oils can quickly turn rancid.
When stored properly, whole kernels will last longer on the shelf than most flours and meals.
Freshly ground flour should smell slightly sweet or be aroma-free. Any oily, dusty, or musty smells indicate the product is past its prime and should be avoided or discarded.