In the search for the best colanders? Colanders may be taken for granted but there's no kitchen in the world without one. These are equally essential as any other kitchen equipment, working for you to make cooking a bit more practical. Whether you are replacing your old colander or getting yourself a new one for the first time, check out this list of some of the best colanders available now.
From straining pasta to rinsing rice, colanders are vital to strain your foods efficiently; it's no surprise then to find there are people that own more than one or even three; depending of course on each person's cooking style. Colanders with large holes are preferred when you want water to drain quickly.
Colanders come with different capacities, sizes, and shapes; so choosing one may seem like a challenging task. So, how to know which colander would have a place in your household. No worries, below you'll find a list of some of the best colanders around and more useful information.
Best Colanders FAQ's
Is a plastic or metal colander better?
Stainless steel is the conventional colander material because it manages to be both lightweight and durable at the same time. Metal colanders can be found in all shapes and sizes, so the final selection is based on your culinary preferences.
The longest-lasting, most versatile, and hardest-working colanders are made of stainless steel or melamine.
Tough BPA-free plastic is a great alternative if you're looking for the best colander to use with kids. These can get dropped and banged around and also won't get as hot to the touch as their stainless-steel counterparts.
What is the difference between a colander and a strainer?
A strainer is really a catchall name for any type of, well, strainer. It is usually fine mesh and bowl-shaped, good for rinsing a pint of berries or draining pasta. A colander is typically a larger bowl-shaped strainer, often with bigger holes, although that's not always the case.
Are aluminum colanders safe?
It is highly recommended to stop using any plastic or aluminum strainers or colanders in your kitchen, especially if you regularly use them with hot or acidic foods.
Also avoid colanders with any kind of coating, especially colored painted or enamel coatings or markings. Colors often are the source of heavy metals in our kitchenware and colored coatings are the first part of the cookware to wear.
What are the different presentations of a colander?
Collapsible
If space is at a premium in your kitchen, a collapsible colander may be right for you. Instead of storing another large mixing bowl-size cooking tool, you can fold these colanders down to a flat surface; so you can keep them stacked or upright in a cabinet.
Collapsible colanders are often made of silicone, and while they can be space savers, they have drawbacks; as these can sometimes collapse at the worst of times.
Over-the-sink
Conventional colanders have feet or a rim on their base so it's easy to stand them up in a sink as you're working, others adjust to fit over the sink entirely, creating a suspended workspace. You can find this style of colander in a variety of different materials; the standard stainless steel is good for durability and collapsible, dishwasher-safe plastic for easy storage.
Two-in-one
There are innovative models that feature a slightly wider bowl with a spout that the colander fits neatly inside, so you can make the most out of your strained liquid.
Display
There are those colanders that are attractive enough to retire to a life on display, enamel or stoneware are the way to go. The holes help with airflow, making these a great substitute for a countertop fruit bowl or refrigerator produce basket. You might find our article on the Best Vegetable Scrubber a good read.
Best Colander Options
The holes in this colander are small enough that you can strain most beans, pasta, and grains as well as fruits and vegetables without any worries.
Tiny, closely spaced holes mean your food drains fast without having to tilt the bowl. The stable draining ring base won't tip over and won't leave your food sitting in a puddle.
You'll be impressed with the quality of the heavy-duty steel with riveted handles. Designed to stand up to the rigors of a professional kitchen.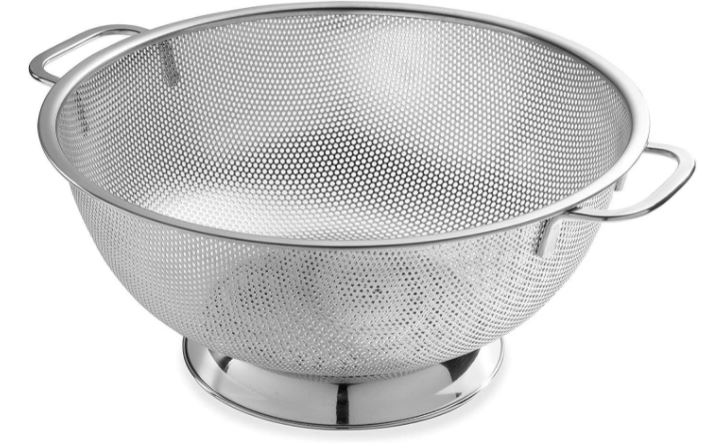 Pin
Features:
Rust-proof
Dishwasher-safe
Stainless-steel
This gorgeous 5-quart colander is made of heavy, 18/10 stainless steel polished to a gleaming mirror finish, it's stain- and corrosion-resistant and nonreactive to acidic foods such as tomatoes.
Its handles are generously sized for a firm grip and are riveted for strength. The rolled edges permit pouring without dripping.
The larger openings at the top coupled with the smaller ones at the bottom help water flow better and drain faster. Featuring a sturdy pedestal base that improves stability to its signature riveted handles that offer a strong grip.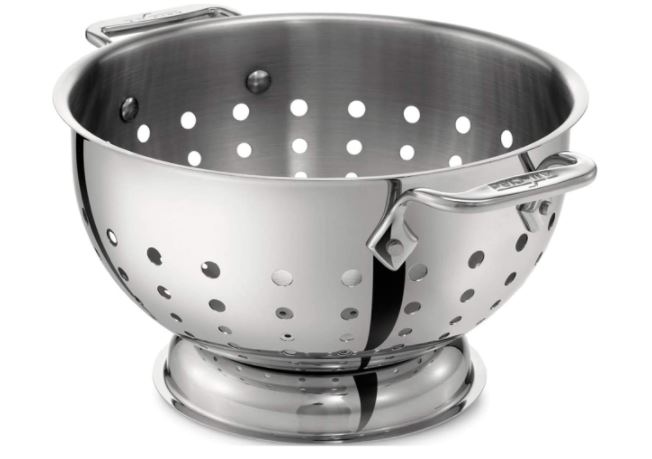 Pin
Features:
Stainless Steel
Integrated handles
Dishwasher-safe
This professional-grade oval colander strainer with fine mesh basket is your premium quality solution for variety of kitchen tasks including filtering, straining, drying and draining.
With its refined oval drying sleeve to supply expandable support in your cooking adventures. This large over-the-sink design, stainless steel body, and exquisite rubber grips are sure to boost your cooking efficiency.
From straining and rinsing pasta, food, fruits, and vegetables, to quick-drying dishes, filtering, sifting, and similar washing, and cooking tasks, you can do it all with this oval colander.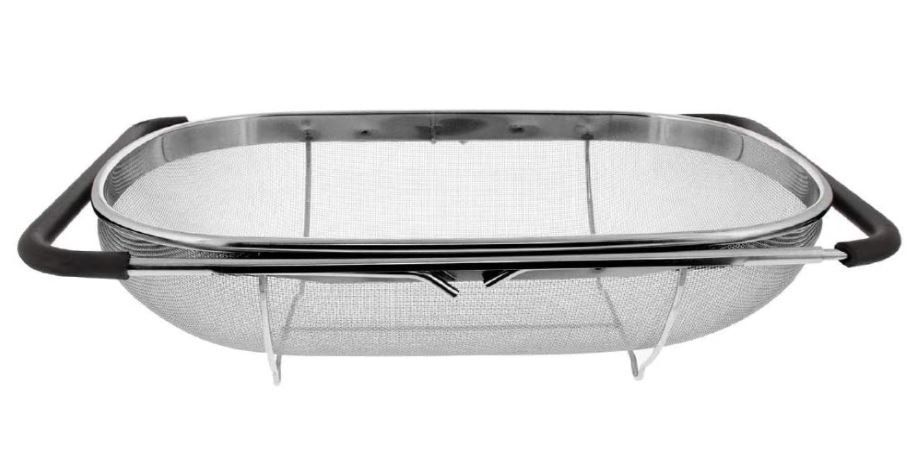 Pin
Features:
Stainless steel body
Exquisite rubber grips
Rust-proof
You can literally use the Priority Chef metal colander for every food. Get rid of the frill water and oils of your pasta in a few seconds or clean your potatoes, tomatoes, berries and every other vegetable and fruit effortlessly.
In addition, you can use this kitchen accessory as a countertop container, plate or displayer and save space. This kitchen strainer is made of first-class Stainless Steel that is rust free and will never affect the taste of your food.
This 3-quart mesh colander will help you drain food and wash veggies, fruits, or rice faster than ever.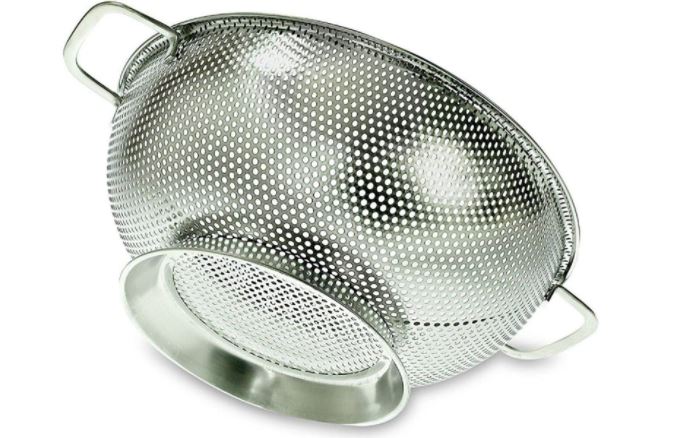 Pin
Features:
Stainless Steel
Ergonomic Design
Dishwasher Safe
This large colander is the perfect size for rinsing and straining large and small portions of noodles, pasta, vegetables, fruits and more.
This colander has holes large enough to easily strain, but small enough to keep ingredients inside the colander. The footed bottom of this colander allows for easier draining and keeps your ingredients from touching the inside of the sink or counter during use.
This colander is made of food-grade stainless steel and the exterior of the colander is copper plated.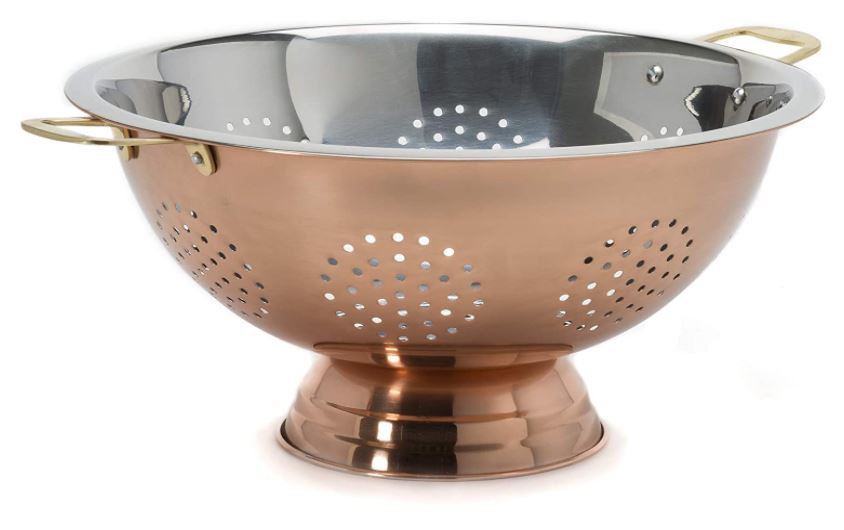 Pin
Features:
Copper and Stainless Steel
Sturdy
Lightweight
Easy to clean
This heavy-duty colander, which will last for decades, is made of solid, high quality stainless steel, and ergonomically designed. It will never rust.
It offers a 5-quart capacity to hold and drain everything from pasta, spaghetti, noodles, berry, all kinds of veggies like spinach carrots broccoli, fruits, to salads.
The right size of holes is small enough so that food won't fall through, and the density of holes makes draining fast.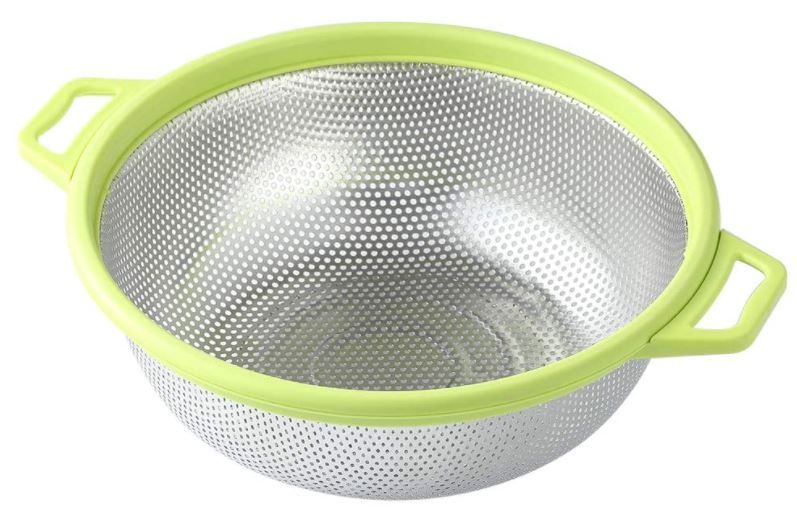 Pin
Features:
Stainless Steel
Ergonomic
Sturdy Handle
The Kitchen collapsible colander holds almost 10 quarts of your favorite food. Easily strain multiple cans or a whole box of pasta at the same time.
The strainer can work for draining food from pasta, spaghetti, and rice, and rinsing salad, fruit and vegetables, functionally bringing the best convenience to you.
Using environmentally friendly materials( BPA free), Nequare collapsible colander is non-toxic and has no odor at all. Heat resistant up to 248ºF, the food colander is safe with dishwasher.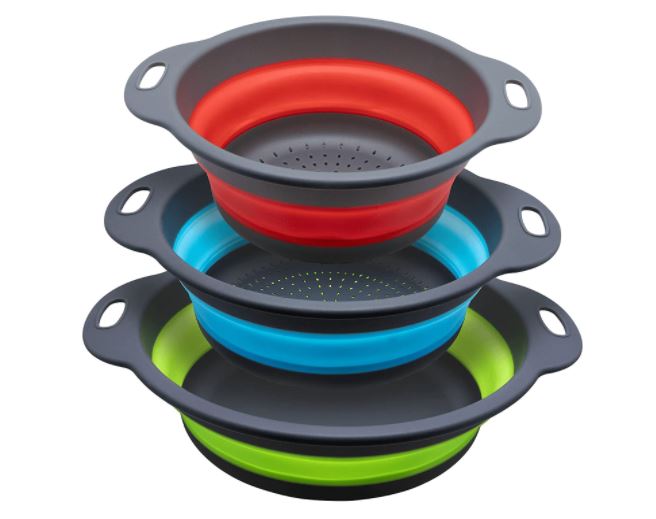 Pin
Features:
Silicone
Multi-Purpose
Heat-Resistant
Dishwasher-Safe