With the holidays upon us, the time to dust off your roasting tin has come, or better yet you may want to splurge some money and get a brand new piece of cookware. Whether you are replacing your roasting tin or getting yourself one for the first time, check out this list of some of the best roasting tins currently on the market.
Roasting tins are totally worth it, if you think about it, these are highly sought after when it comes to cooking those delicious Thanksgiving turkeys, but they're also highly versatile for everyday cooking. Just imagine serving roast chicken and vegetables, or preparing one-pan meals like lasagna or deep dish pizzas, baking desserts, and more; all thanks to your handy roasting tin.
With so many different models, choosing a roasting tin for your specific needs may seem like a daunting task. But do not worry, we've come up with a list of some of the best roasting tins currently on the market, that we think are totally worth your money.
Best Roasting Tins FAQ's
What is a roasting tin?
A roasting pan is typically a large, oven-safe pan with high sides that often includes a rack. These sturdy pans are usually made of thick aluminum or stainless steel in order to support the weight of a turkey, chicken, or other large pieces of meat.
What's the difference between a baking tray and a roasting tin?
The same thing as a baking dish. Baking dishes are typically made of glass or ceramic, have lower walls, and are used at lower temperatures, whereas roasting pans are usually metal, have higher walls, and are used at higher temperatures. Roasting pans are often paired with roasting racks.
Are stainless steel roasting tins non-stick?
There are models that are stainless steel roasting tin with rack and non-stick a layer roasting tray constructed from superior stainless steel. Nonstick roasting pans will be easiest to clean with mild dishwashing soap and a non-abrasive scrubber.
Does your roasting tin need a rack?
This would be ideal, but if it didn't come with one, you can make one. The purpose of a roasting rack is to provide a way for the oven's heat to flow under your roast, so you just want to keep your meat lifted off the bottom of the pan.
What size roasting tin should you choose for a turkey?
For small turkeys (12 pounds and under), you'll need a 14-inch pan. Medium birds (12 to 16 pounds) will require a 16-inch pan, and larger turkeys (up to 20 pounds) should fit an 18-inch roaster.
How do I choose a roasting tin?
When buying a roasting pan, choose a shallow, heavyweight pan with good heat-conducting qualities.
Also, look for a perfect fit. If you're cooking a turkey, your pan should just hold the turkey with no part of the bird extending beyond the pan so the meat juices don't drip into the oven.
Be sure your pan has a rack or trivet to hold a turkey out of the drippings and allow the heat to reach the underside of the bird so it cooks evenly.
If you roast a lot of smaller meats, look for a shallow roasting pan to keep in your kitchen for use with weeknight dinners.
What features should you look for in a roasting tin?
Size. When thinking about what size roasting pan you need, consider what type of food you want to roast.
Shape. Consider the shape and design of a roasting pan before purchasing. A roasting pan that has a raised bottom will be harder to use on the stovetop for preparing sauce and gravy.
Material. Roasters are made from a variety of materials, and each will cook your foods slightly differently and require different methods of care. You'll also want to choose something that isn't too heavy for your needs.
Additional features. There are models that come with a lid or a roasting rack, as well as those that are just bare-bones. Also, when looking at a pan, check to see what type of handles it has and if you find them comfortable to use.
What is the best material for a roasting tin?
Stainless steel and aluminum pans are usually hard-wearing. Nonstick roasters may be prone to chips and scratches that require more frequent replacement.
Certain materials, like cast iron, produce heavier cookware that will require more muscle to move between oven and table. Remember: A heavy roasting pan will only be that much heavier once you place a large piece of meat or turkey in it.
Best Roasting Tins
The Circulon Nonstick Bakeware 17 inch by 13-inch Roaster with U-Rack makes it simple to create holiday roasts, family feasts, and more. With its convenient chrome-plated U-shaped rack, this oven roaster keeps meats off the bottom of the pan so unwanted fats drip away to the bottom of the roaster.
The heavy-duty steel construction promotes balanced heat distribution for superior cooking performance and long-lasting durability while the nonstick roaster has rolled edges for extra strength.
The oven roaster also features premium-quality nonstick for excellent food release and easy cleanup. Oven safe to 450 degrees Fahrenheit, this big turkey roaster is a great way to create delicious meals.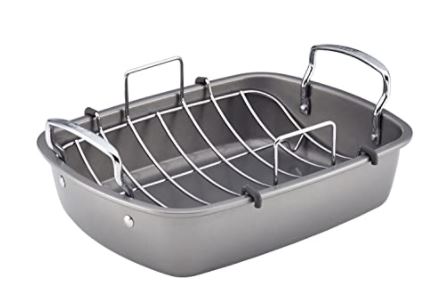 Pin
Features:
Extra-large roasting pan with rack
Superior nonstick technology
Durable
The MasterClass Teflon Non-Stick Roasting Tin features a removable, non-stick roasting rack and pan below to house potatoes or veg. This allows the greasy juices to drip down, so you get all the rich roasted flavors and crisp textures, but with less fat.
This roasting tin is designed for regular use in busy kitchens. It's built from warp-proof, rust-resistant carbon steel, so it's assured to last and last.
Both the pan and rack are coated with the Teflon Xtra non-stick coating. This premium material is designed to withstand all the rigors of regular roasting while providing outstanding non-stick performance.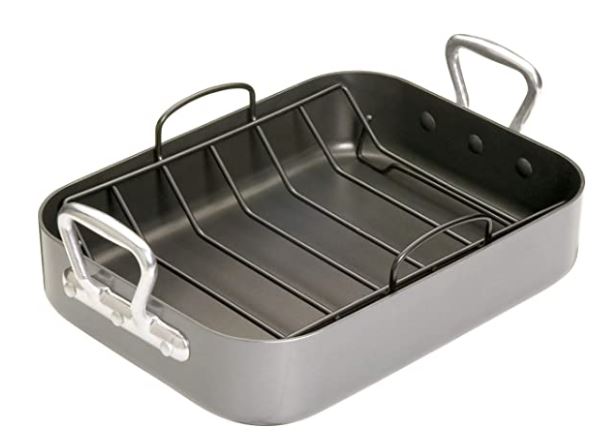 Pin
Features:
Carbon Steel
Non-Stick
Stovetop safe
Penguin Home cookware is designed and built with sturdy, riveted stainless steel handles for heavy-duty performance.
This professional stainless steel roasting tray is everything you need to make the perfect roast. The sturdy, removable rack is handy for cooling your cooking creations and allowing meat juices to drip into the bottom of the tray.
Made from high-grade stainless steel with a mirrored polish for stylish home kitchens. This roasting pan is oven safe, dishwasher safe, and built to last you for years.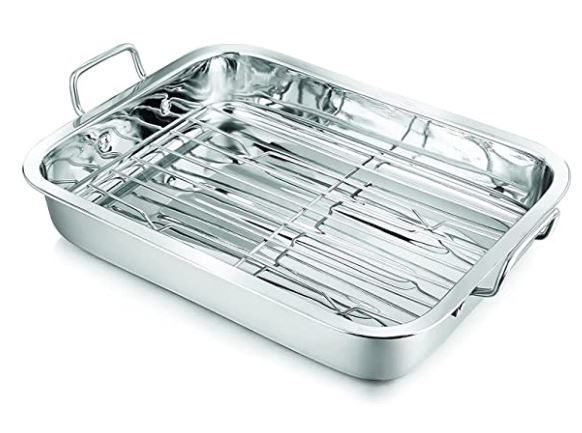 Pin
Features:
Sturdy, removable rack
Made from high-grade stainless steel
Oven safe, dishwasher safe
With the rectangular enameled cast iron roasting dish, dinner doesn't have to be overwhelming. Skip the takeaway and whip up a range of fuss-free, one-pot meals in no time.
From oven-baked egg avocadoes or lightly browned mac and cheese, to slow-cooked lamb curry, perfect roast potatoes, and ultimate gooey brownies for afters.
Ideal for quick simmering, slow roasting, or baking on medium-low heat, you can pop it in the oven, under the grill, or use it on all hob types, including induction.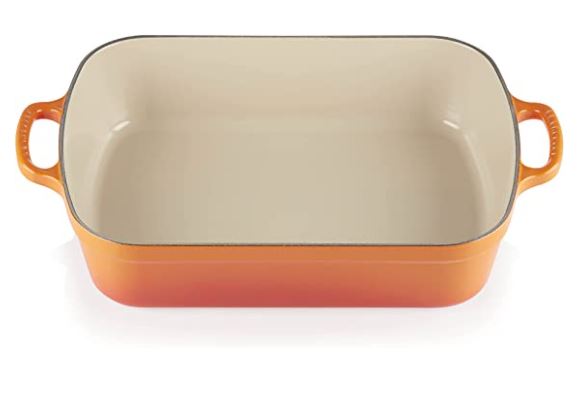 Pin
Features:
Large, easy-grip handles
For ovens, grills, and all hob types
Energy-efficient
With its compact proportions, it's great for roasting small joints of meat. And when you're cooking for a lot of people, it slots easily into crowded ovens.
Enjoy delicious roast meat and poultry with this heavy-duty roasting pan. Its small size and high-quality non-stick coating ensure that clean-up couldn't be easier, too.
Folded corners and wire rod reinforcement prevent this mini roasting tin set from buckling in your oven.
Premium PTFE and PFOA-free non-stick coating takes the dread out of washing up and makes removing cooked food easy.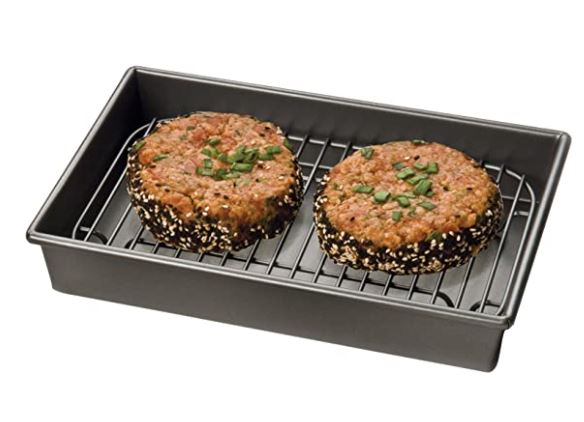 Pin
Features:
Non-Stick
Compact size
Metal
The baking tray set contains 3 Roasting Trays which are deeper than the usual roasting tins which you may find. Making them ideal for cooking a wide variety of dishes and not just for roasting.
The set comprises a Small, Medium, and Large Roaster Tray which all fit nicely into each other for easy storage.
The oven trays can be used to cook a wide variety of different meals. Whether you want to use the pieces as a roasting tin, cake tin, or loaf tin, it allows you a variety of different options.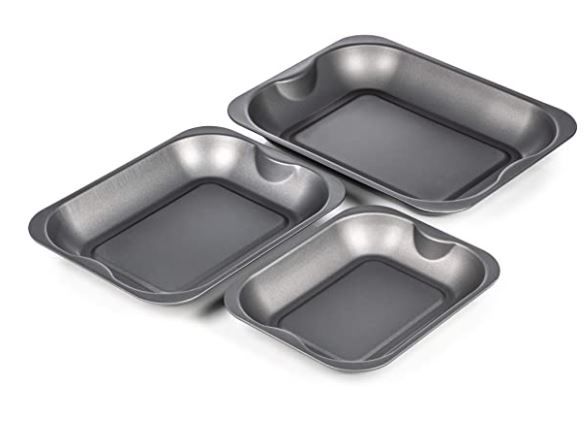 Pin
Features:
Teflon coating
Easy to carry and hold
Deeper than normal
Grab this attractive, polished stainless steel roasting pan when you're cooking for three or four. It's perfect for medium-sized meat joints and poultry. Anything that could look swamped in a larger tin.
The tin also comes with a roasting rack, which lets juices and oil pool below the meat, for extra-juicy results.
And its super lightweight construction allows you to carry it over to the hob with ease, to turn juices into delicious indulgent gravy.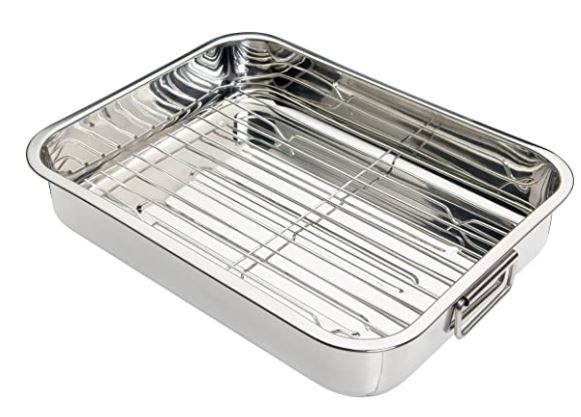 Pin
Features:
Stainless Steel
5 Litres Capacity
Non-stick
Best Roasting Tins Additional Tips
Regardless of which material you choose, when it comes to cleaning you should always allow your roasting pan to cool before immersing it in water.
Depending on the material, some roasting tins are hob safe, perfect for gravy; while others can go in the microwave, freezer, or dishwasher.
Disposable aluminum roasting pans should not be used for cooking turkey or other heavy roasts; those pans are not heavy enough to support the weight of the bird and could spill or break.